Text Size
Print
Local Attractions
R.R. Moton Museum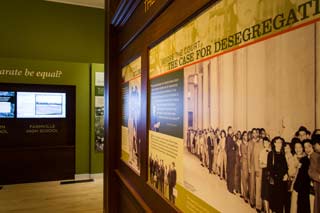 Located in the former Robert Russa Moton High School, the site of the historic 1951 student strike over unequal conditions at the segregated school, Moton Museum celebrates and commemorates the actions of Farmville students and the history of the civil rights struggle in Virginia.
Tens of thousands of school groups and area visitors tour the award-winning museum every year, often learning for the first time of the ignoble history of Prince Edward County's five-year involvement with Massive Resistance, in which public schools were defunded rather than integrate, and the heroic actions of community members and brave college students who came to town to operate free schools at the urging of the Kennedy administration.
To visit: The museum is open noon-4 p.m. Monday-Friday. Walk-ins are welcome, or group tours can be scheduled by contacting Sherre Atkins, guest services manager, at sherre.atkins@motonmuseum.org or by calling 434-315-8775.
High Bridge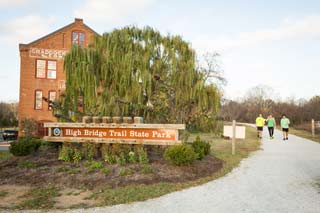 The centerpiece of Farmville's outdoor recreation attractions, High Bridge is a former railroad trestle that stretches more than a half-mile over the Appomattox River. It is among the longest recreational bridges in the United States and offers unsurpassed views of the region. The bridge was the sight of some of the last fighting of the Civil War.
How to get there: The 31-mile High Bridge Trail crosses through Farmville on the northern end of Main Street, where there is ample parking and a beautiful plaza. The bridge is about three miles west of Farmville, and bicycles can be rented in town. Visitors can park closer to the bridge by taking River Road west out of town and following signs for the parking lot at 533 River Road.